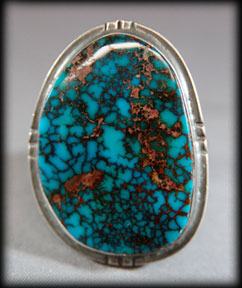 Bisbee Turquoise
Check out our hand cut Bisbee Turquoise Cabochons! We carry every grade of this rare American Turquoise icon in cabochons. We have deep blue, medium blue, light blue, green, "Smoky Bisbee", and Spiderweb Turquoise cabochon from the famous Southern Arizona mine. All gemstones are 100% genuine Bisbee and have been hand Cut by John and Dillon Hartman of Durango Silver Company.
Shop For Geniune Bisbee Turquoise Cabs now!
Bisbee Turquoise Cabs
Bisbee Turquoise
Bisbee Turquoise was originally discovered by the Phelps Dodge Company while mining for copper in the 1950's. It was found in an area of the Bisbee mine at what is known as the Lavendar Pit. They found the deposits of Bisbee Turquoise until the mid to late 1960's. During the time that the largest quantities of turquoise were being extracted from the mine, the company made no organized effort to recover it. It simply got loaded into large dump trucks and hauled off to the "dumps". Almost all recovered turquoise was picked up by company employees, taking it home in their lunch boxes, etc. Though this activity was prohibited, it was rarely enforced. For several years (mostly the early to late 70s), these individuals locally know as "dumpers", were the only source for this fine American Turquoise.
View a slide show of beautiful Bisbee Turquoise Cabochons.
In March of 1972 a miner named Bob Matthews was given the only lease ever granted for rights to mine Bisbee turquoise. He was said to have recovered more than 2,000 pounds of good to excellent turquoise by 1974.
Most Bisbee jewelry being made with Bisbee Turquoise today is from long-time collectors of the stone, miners, old stashes and collections that are getting harder and harder to find every year. This is truely a rare Turquoise as there really was never that much of it to begin with and if there is any left in the mine it will take an act of God to get it out. Recently, the Phelps Dodge made the claim that there is no more turquoise in the dumps and covered them up with over 50 feet of dirt and dead rock. Whether this is true or not? Well I am sure some Bisbeeites know. One thing is for sure, there is not many American Turquoise mines producing Turquoise anymore, and there never were many Turquoise mines that produced the quality of Turquoise in quantity that the Bisbee mine did.
Claim Now!
Is this your business?
Claim listing is the best way to manage and protect your business.
Claim Now!