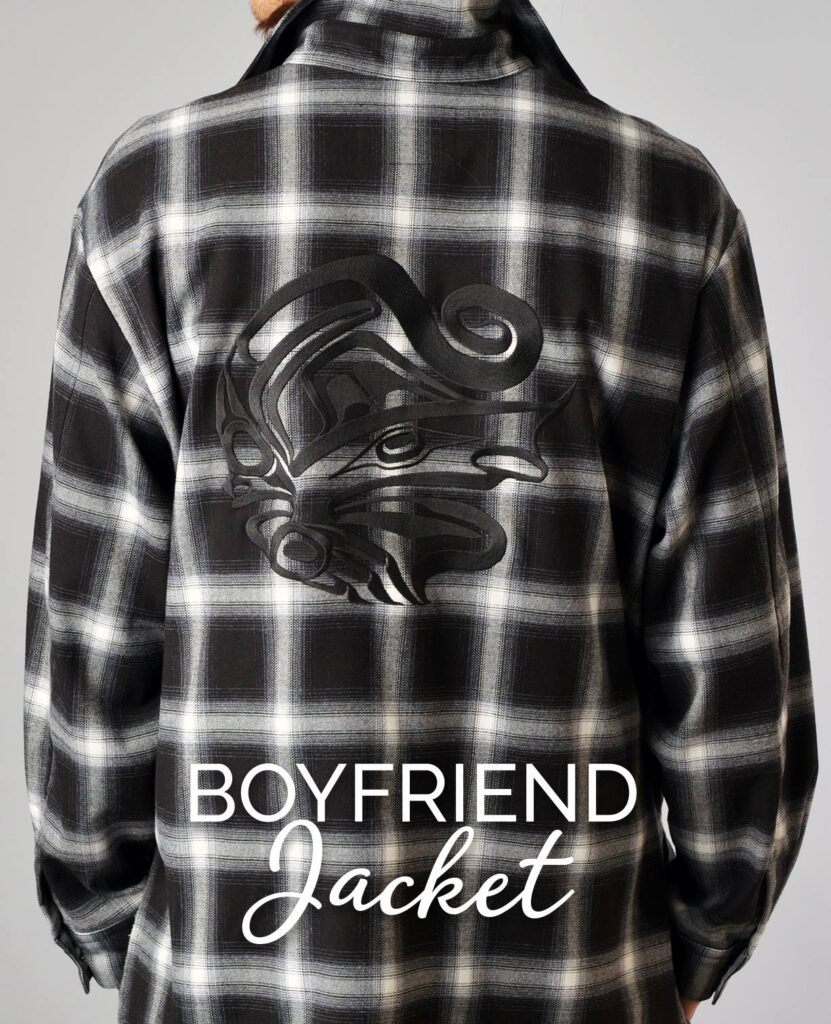 Dorothy Grant
The Artist
Internationally renowned fashion designer and traditional Haida artist Dorothy Grant's strong connection to her culture and Haida identity has been the driving creative force and her foundation as a contemporary fashion designer for over the past thirty-two years. In 1988, Grant became the first to merge Haida art and fashion utilizing her formal training at the Helen Lefeaux School of Fashion Design.
Dorothy believes that her clothing embodies the Haida philosophy Yaangudang meaning "self respect." The driving force behind her clothing designs is "empowerment, pride and feeling good about oneself."
There are few designers in Canada that are manufacturer, a wholesaler, and have had their own retail storefront, Dorothy Grant is one of those few. In 1986 Grant began to pursue a vision of building a business and storefront in downtown Vancouver which became a reality in 1994. Over the course of seventeen years and three recessions, she kept going with her vision in spite of the struggles and challenges of being a small business owner. Grant's ability to maintain a successful business while remaining true to her artistic ability has been one her most impressive achievements. Dorothy's success is evident by her invitations to participate in many prestigious art and fashion exhibitions. She is the recipient of numerous awards, and her work is featured in 13 museum collections across Canada, United States, and United Kingdom. In May 2015, Dorothy received the "Order of Canada" for her contributions to Canada's fashion industry and for mentoring youth through her example as a designer and entrepreneur.
After seventeen years in retail and manufacturing, Grant has transformed her entrepreneurial focus to Native art market trade shows and online sales through her website www.dorothygrant.com. She continues to make one of a kind garments for her clients and she shows in various art markets in Alaska, California, New Mexico, New York and various cities in Canada.
Claim Now!
Is this your business?
Claim listing is the best way to manage and protect your business.
Claim Now!