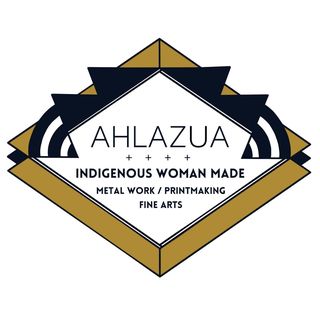 Ahlazua
Rykelle's current works of art is a representation of the knowledge she has attained through her personal studies of her tribes of the Southwest and Southeast United States. She is an enrolled member of Mvskoke Creek Nation, her tribes include: Choctaw, Euchee-Mvskoke Creek & Diné. She works out of her home studio where she produces her own mono-silk screen prints, mix-medium artworks and metal work.
In addition to her first artistic expression: printmaking, she found her creative passion for jewelry making and design in 2015. Since then, Rykelle started her own business: Ahlazua-Indigenous Woman Made. After taking a basic class at a local arts school in phoenix she worked tirelessly at cultivating and growing her own techniques in silversmithing. She has created a unique style that incorporates her tribal heritage. She works with Natural Materials that she has found in her Tribes while studying and researching traditional methods and Materials. From the South East she incorporates Shells, Pearls, and shell carving/cutting & applies that to Techniques and Materials from her Diné Tribe in the South West such as Tufa Casting, local Turquoise and sweat soldering. With her Goal to combine and use as many traditional Techniques and Materials from all her tribes, she truly has a distinct Design Style that shows her love of her people and Culture.
Her business, which incorporates her given Euchee/Yuchi name 'Ahlazua', was an important step in her career as it allowed her to showcase her Heritage and her Indigenous Name. As an Indigenous Woman Owned and Operated Small Business within her community she hopes to inspire other indigenous artists and Youth to continue to create.
Claim Now!
Is this your business?
Claim listing is the best way to manage and protect your business.
Claim Now!