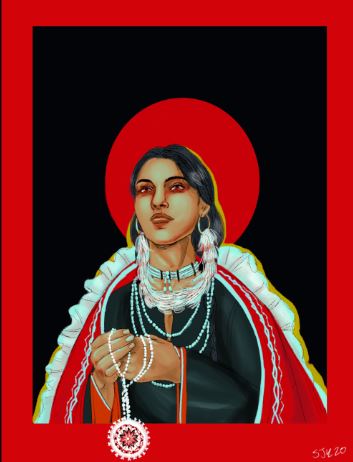 Space Jam Kam Art
Kameron White is a comic artist, illustrator, and designer from Houston, TX, now residing in Minneapolis, MN. He graduated with a BFA in comic art from Minneapolis College of Art and Design in 2018. His favorite things to create are original characters and worlds, fashion designs, and fun, eccentric stories. Within his work, he works towards displaying a diverse group. His work mainly includes People of Color, LGBTQ+ individuals, individuals of different body sizes, individuals with disabilities, and individuals of various backgrounds. He also places these characters in sceneries that are not common in history, especially Black and Brown bodies in mythological and religious imagery.
As an Afro-Indigenous, queer, and disabled individual, he's been in a place where not seeing yourself represented or represented in a stereotypical light can affect you immensely. Rather than let it discourage him, it powers him to move forward and turn this scenario around, making sure people see themselves and their stories represented. He also aims to document his own story by illustrating comics going through his journey as a Black and Indigenous Trans man. With his stories, he hopes to inspire and help other people who might relate and know that there is someone who has been there too. One of his stories was featured in the "We Are Here: All-Trans Anthology," where he shared his story with other amazing Trans artists. Their book won the Ignatz 2019 award for Outstanding Anthology. He also has illustrated a story included in "Proud," an anthology of stories and poetry by LGBTQ+ YA authors collected by Juno Dawson. It won Book of The Year in the 2020 Visionary Honours awards. Starting in 2022, he was chosen as one of the participants for the DC Comics Milestone Initiative program. Besides art, he lives with his partner, their three cats, and dozens of squishmallows.
Claim Now!
Is this your business?
Claim listing is the best way to manage and protect your business.
Claim Now!