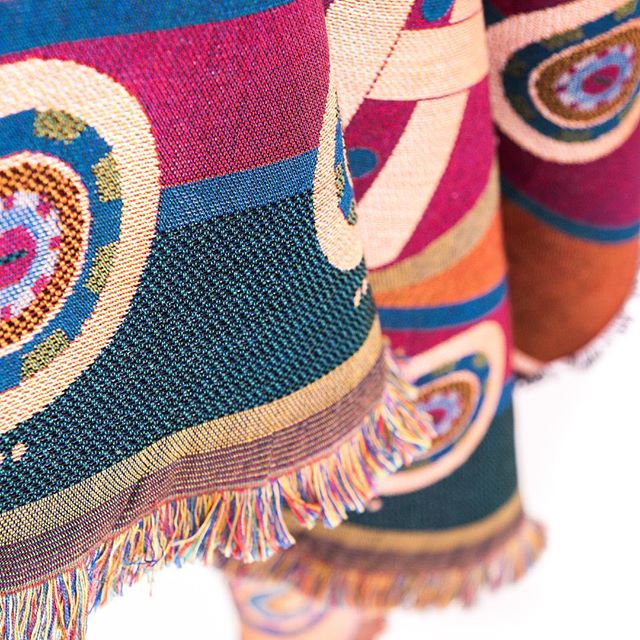 Mahota Textiles, LLC
Mahota Textiles is the first textile company envisioned and owned by a North American tribe. We create meaningful textiles that elevate beauty and our treasured culture, inspired by our Southeast heritage. Our textiles tell our stories in expressive imagery and soft, warm woven material. Every Mahota textile is designed in Oklahoma by Chickasaw tribal artists and woven from natural materials in the USA.
The making of Mahota Textiles is the making of a legacy. The threads of our history reveal a colorful weaving together of women and warriors, immigration and removal—centuries of heritage and tradition.
Mahota Textiles is the ultimate passion project for our founder Margaret Roach Wheeler, for which she honors the heritage of her family and the legacy of creative Chickasaw women. She is an award-winning weaver, fiber expert and textile artist who received a research fellowship to study at the Smithsonian's National Museum of the American Indian in New York and exhibited works at prestigious institutions, including the Museum of Art and Design and the Institute of American Indian Arts.
The legacy of Mahota Textiles today is innovation, creating artful, quality products of Southeast tribal designs that are first, and always, beautiful. By transitioning from handlooms that restrict circular pattern-making to computerized looms guided by modern design software, our artisans join trusted industry partners to bring our culture to the world.
We only select the finest natural fibers of cotton, wool, linen, or other materials to create lasting pieces that feel good. No chemicals are ever used in the weaving and finishing of our products. The inherent earthly qualities of these fibers naturally create elegant textiles for everyday use. They are beautiful and durable, breathable and comfortable, and most important, human-friendly.
You can find Mahota Textiles' products in various museum shops and stores throughout the United States as well as in our online retail store at
www.mahotatextiles.com
.